Hearn Veterinary Services is a family veterinary practice with a married team of vets. The whole family has a passion for horses with varied interests from veterinary medicine, breeding, and polo to hunter shows, jumping and fox hunting. They have been breeding, raising, training, playing and selling their polo ponies for years. The "Mouse" maternal line is now into the fourth generation.
Dr. Patrick Hearn DVM, MSc.
Patrick grew up in Toronto, attended Upper Canada College, the University of Guelph, and then The Ontario Veterinary College (OVC), graduating in 1985. He completed an internship with Stan Cosgrove in Kildare, Ireland, and then joined Windfields Farm, a leading Canadian Thoroughbred breeding farm, in Oshawa, Ontario. He completed a Master's degree in Equine Reproduction at OVC in 1993.
After working 17 years for Windfields Farm, he moved to the Hockley Valley outside Orangeville and set up an equine, ambulatory practice with his wife, Dr. Elizabeth Hearn. The practice has a strong focus on stud farm medicine, foaling and reproductive care in the spring. However, it also has a busy general aspect that includes lameness, medicine, preventive care, and pre-purchase exams and looking after equids from all walks of life: polo ponies, hunters, jumpers, eventers, western pleasure, reining and roping horses, pony club ponies, draft horses, and donkeys.
Patrick's other Interests Include: Snowboarding, Ski Patrol, Kayaking, Hiking and Photography.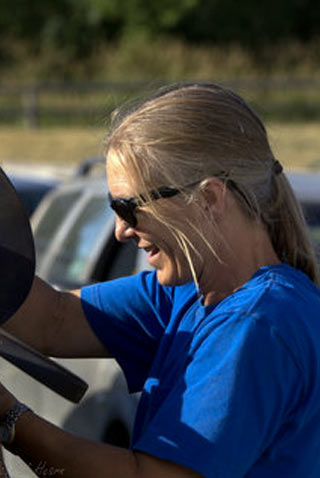 Dr. Elizabeth Hearn BA, DVM
Elizabeth was born in Cleveland, Ohio, and grew up moving around the country, as her father's work carried him from city to city. She attended Cornell University undergraduate and then The Ohio State Veterinary College, graduating in 1991. After graduation, she accepted a job at the racetrack in Cleveland. She married Patrick in 1992 and moved to Canada.
Beth is a passionate horsewoman who spends most of her spare time in the saddle. She learned to play polo at Cornell, spent her honeymoon playing a polo tournament in India and has been an active member of the Toronto Polo Club since 1993. Her homebred polo strategy is "Breed, hold & prosper." When not playing polo, she enjoyed hunting with the North York Hunt and was involved with her daughters in the Caledon Pony Club for many years.
Beth's other Interests Include: Polo, Skiing, Ski Patrol, and Red Wine.
Patrick and Elizabeth have two daughters: Kaitlin graduated in Biological Engineering from Cornell University in 2018, while there she played on the varsity polo team. She now works for Goldman Sachs in New York. Clare played interscholastic polo for four years, going to nationals three times. Now she is studying nursing at Seneca College in King City, Ontario. She will be captain of the equestrian team for York University next year.